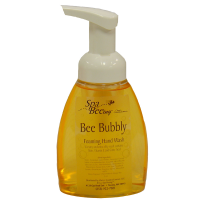 Skin is very important as it performs functions like controlling temperature. It is sensitive and prominent part of a body that?s why it was affected more as compare to other body parts. To take proper care of your skin, honey-based products are the best solution to your problem as it is the natural moisturizer and its main ingredient in the products which has the ability to absorb and retain moisture which keeps your skin hydrated and fresh. Honey skin care products help to prevent your skin from drying to keep your skin young-looking, flawless and radiant.
Honey is the natural antioxidant with the properties to protect skin from sun rays and ability to repair skin leaving it feeling silky, soft and supple. Honey based products clarify the skin by opening and unclogging the pores, it is also good for wrinkles and aging skin. Honey skin care products are:
Honey facial cleanser
Honey is good dissolving makeup residue when to apply with a little oil, rub honey facial cleanser to your skin avoiding eye area to loosen makeup and unclog pores then wash with water.
Honey skin lotion
Honey skin lotion is the natural honey based product easily available in markets; apply on dry areas of your skin especially in winter as it acts as an excellent moisturizer.
Beelove lip balm
Beelove lip balm is another honey skin care product which has a luscious taste with the best quality; it is an effective product which makes your dry lips smooth and clean.
Honey almond body scrub
Honey almond is also honey based product that can easily be made at home and also available I markets. The required ingredients are; milk, honey, lemon juice and almond oil to apply on your body.
Honey peel off masks
The face mask of honey is the amazing moisturizer for dry skin, apply the mask for 10 minutes and peel it off from downward to upward direction and see good results, these masks are easily available in the market.